14 Oct

14 eCommerce events to track in Google Analytics

For the tracking of detailed performance of existing traffic on your online store, or to track specific actions carried out by shoppers, the eCommerce store reporting in Google Analytics will need to exceed its basic user performance metrics.

If you add event tracking to your more basic website tracking, you will be provided a deep and insightful view on your visitors' behaviour.

Below, 14 key events will be listed that eCommerce stores might want to track in Google Analytics, so to measure and understand customer journeys, improve them, and essentially drive more reach as a result of the data they will be providing.

1. Add-to-cart events

If you can track which of your products are being added to the shopping cart, you're enabling yourself with, not only the ability to analyse how many products are added, but why some of your products may have higher conversion-to-purchase rates than other products.

2. Add-to-cart errors

If a user selects an option to narrow down their searches, prior to adding a product to their cart, be it size or colour, you can use event tracking to see how frequently visitors attempt to add a product to their carts before selecting required options.
You can trigger this event at the same time an error message is displayed to shoppers, a reminder to them that they need to take some additional action before they can follow through with their purchase.

Collecting data like this will allow you to analyse some the error that occur often when your customers are attempting to add products to the cart.
Be sure to pin-point repetitive errors, to ensure that these problems are dealt with and the customers' experience is improved.

3. View product

This is similar to the 'Add to cart' option, as it gives insight into which of your products are viewed and selected.
It can help answer some of the questions that you may be puzzling over: One the products are viewed, what percentage is being added to the cart (event 1, above)? What percentage is actually bought (in comparison to unique product purchases)?

4. Proceed to checkout

It's quite useful to gather your checkout traffic data, because it can assist the analysis of the percentage of users that actually made the transition from the checkout, to making the transaction.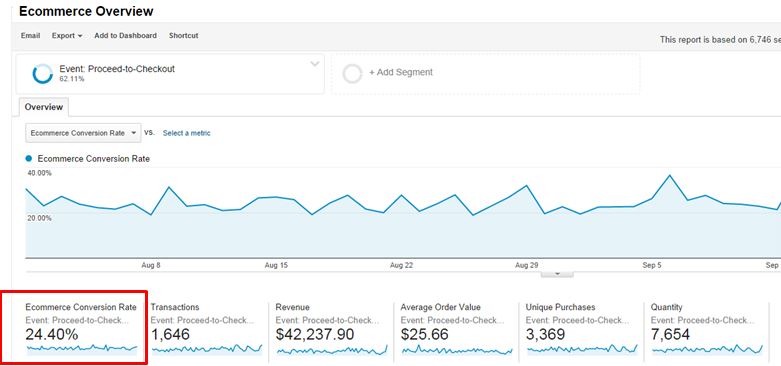 As pictured above, only 24% of checkout traffic did go through to sales.
5. Continue shopping
Ensure that an event is assigned whenever a customer clicks the 'Continue shopping' button, post purchase and after adding an item to their cart.
Similar to the 'Proceed to checkout' option, it will measure and provide information about the percentage of users that have continued shopping, contrasting with single item purchases, and full conversions.
6. Checkout error
Similar to the 'Add to cart' error, but with a notable difference of tracking the errors that have been encountered by shoppers through the checkout process.
Push checkout error notifications to the 'Event Label' as significant variables, e.g First Name Error, Last Name Error, Credit Card Error, and so forth.
A valuable insight to have is the ratio of checkout error events, against unique checkout error events: the higher the ratio of a certain type of error, the more issues users have experienced at this point of the checkout process – which is definitely something to look into.
7. Home page promotions: click-through's to product pages
In quite a few eCommerce websites, the home page is the most popular landing page, and because of this it deserves quite a bit of attention regarding it's analysis and data collection.
Home pages tend to have one feature area, and both primary and secondary promotional areas that promote individual products on that website and even advertise special offers and campaigns.
Pictured above is an example showing customers that clicked the 'Product 1 Home Page' promo link, have a 23% conversion rate.
8. Site searches
By tracking the searches made on your site as events, (also pushing search queries as values to the 'Event Label') not only are you accessing deeper insights into specific products people are on your site for, but this could also be utilised for optimising contextual marketing campaigns.
If you find that a specific query is popular amongst your targets, you can feature a promo on your home page, or add the key phrase to your paid/organic keywords.
9. Site searches without results
Although this does not track any results queries made on your site, analysing queries from this event could give you information on the products that are not sold in your store but are popular demand amongst your customers.
10. 404 errors
This is a vital thing to have.
Ensure that included is the URL for the HTTP 404 error, which indicates 'page not found', as another 'Event Label' – This way you'll be able to address the problem page and fix it.
11. Other errors
This isn't an important event to add but it will display when other errors occur on the site, such as a JavaScript error or difficulties loading the image happens.
Again, the error can be located and fixed.
12. Payment method selection
By pushing the method of payment, (as a variable on the 'Event Label') you will be able to understand:
– Which is the most popular method of payment
– Do users with specific methods of payment (e.g. PayPal) have a higher cart abandonment rate, or don't follow through with the transaction at all?
Compare data from this event with data gathered with the eCommerce code on the order confirmation page.
13. Clicks on internal links
You will be able to analyse the most clicked internal links and there leads if you track an internet link, especially on a product page.
To do this you can push the destination URL of a link into the 'Event Label'.
14. Social media shares
Ensure to follow whenever your shoppers share a product, promotion or any piece of content on social networks.
This data can be utilised for analysis of the popularity of products, promotions and content on social media networks.
To conclude, when setting up event tracking, bear in mind that there isn't an incorrect way to approach the matter, regarding the types of data that should and should not be collected.
Select and determine features that are of the highest priority to your site and business.
For more information on all online marketing solutions, contact us.