Twitter is a really brilliant platform to use for interacting.
Brands can use it to talk with both customers and journalists as well as Public Figures and Institutions.
By the way, their comebacks can be a little – shall we say – 'full on'.
It can be just a little too tempting to post a sarcastic reply to customer complaints or Institutions.
And often it's the big boys that play this game – Burger Kings, Greggs,  Pizza Hut, O2, Tesco, Cadbury's.
Here are some of the funniest (and unexpected) comebacks we've seen on Twitter.
Leeds United prefer Dominos! But Pizza Hut…
If you want to score a goal, you need to be fast.
And the Leeds United Football Club know that really well.
The British football club couldn't accept what Pizza Hut said and they replied," Prefer Dominos, thanks!".
But Pizza Hut scored their own goal when they tweeted back:
With this answer, we think that Pizza Hut came top of the leaderboard!
Donald Trump's investment in new Burger King recipes
Despite having a "first-rate education," even Donald Trump isn't immune from the typos that plague us all (thanks AutoCorrect!)
Apparently, he took time away from building the wall to concoct a new meal for the players of the National Champion Clemson Tigers: 'Hamberders'.
After this wonderful tweet, Burger King didn't waste any time to take a dig at the President.
Facny some fries with your Hamberders?
Piers Morgan against Greggs: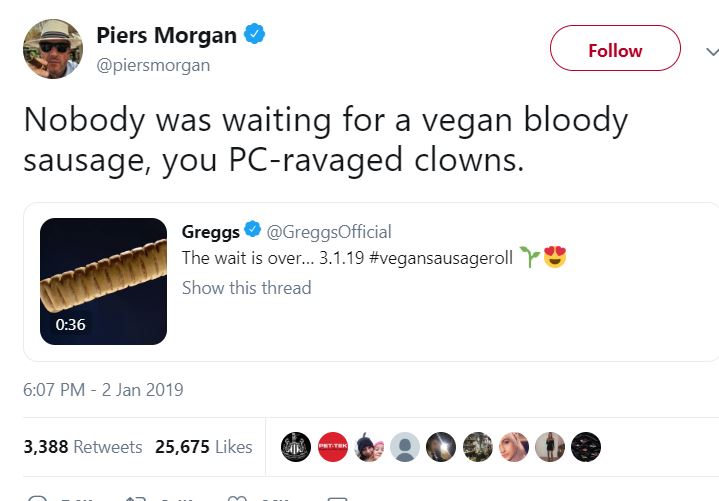 Twitter gives everyone a chance to speak their mind, Piers Morgan's favourite pastime.
The opinionated presenter appeared to be furious at the idea that a pastry containing no meat or dairy would be for sale at the high-street favourite.
The social team at Greggs were quick to reply with a sassy response – a perfect example of when saying just a little, works a lot.
When will Piers Morgan learn that his opinion doesn't apply to everybody?
Probably when pigs can use Twitter…
Getting dating advice from O2
Ahhh, James Rhodes.
246 texts later and she still hasn't given you an answer; we can't help but feel sorry for this guy.
But O2 does have a valid point. Why send the same text to one person, who isn't reciprocating on your feelings, when you could open up your horizons and send it to 246?
Our opinion?
Move on James, accept the answer and become best friends with the O2 guy.
That's the pairing we all really want to see happen.
Hulk Hogan: 12-time WWF World Champion, an exceptional athlete, actor and… Sainsbury's employee?
A customer enquired about his chicken sandwich and whether or not a certain Mr Hogan had adopted the duty of crushing the poor thing.
Sainsbury's felt this was a fair complaint; they've now employed the Ultimate Warrior instead.
Now, imagine Hulk Hogan with his bandana, sunglasses and moustache in a Sainsbury's uniform.
Maybe something like this? 
That picture haunts us.
We're not quite sure which is worse; Hogan in the uniform or our Photoshop skills?
Don't answer that one.
Tesco tells a joke
We love this.
The rivalry between the big supermarkets has now made it to the digital world, and we're living for it.
Although it's the most basic answer they could've given, it's certainly a quick-witted one-liner.
As Tesco, Asda, Sainsbury's and Morrisons all lock horns over being known as the top stop in supermarket shopping, this was Tesco's perfect opportunity to give a quick dig at their rivals.
They did and it's brilliant.
When Lib Dems is too busy to run the country
It's always good to see parties get bitchy with one another and Labour completely won the title when they made this sly dig at the Lib Dems.
Let's be honest, British politics wouldn't be what it is without the odd joke.
Cadbury's adopt the meme with style
A meme is a typically humorous image, video or piece of text that is copied and spread rapidly by Internet users, often with slight variations.
Cadbury's took it upon themselves to adopt the ever-miserable grumpy cat into the advice team of their Legal Department, which helped them appeal to the younger generation.
Seriously though – who 'accidentally' buys the wrong chocolate?
Tesco are the comeback kings
When sassiness is met with sassiness. With this old tweet, Tesco really got their own back.
This is possibly one of the funniest branded tweets we've ever read. Tesco Mobile FTW.
So, which one is your favourite?
We're loving all the supermarket and political drama, and makes us love the platform even more.
And don't forget, we can help you with your social media strategy here at Strategy Plus. Whether you're an established brand, startup or eCommerce brand, we can create a tailored strategy to really ensure you're winning with your social content. Let's chat.
Latest posts by Daniel Ricardo
(see all)