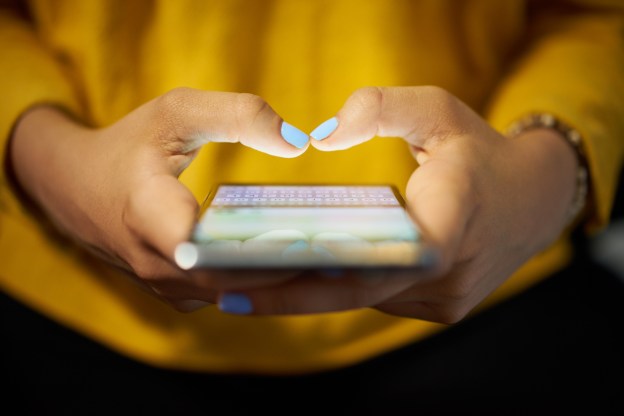 Social media is a dominant force in a company's marketing tool kit. It's one of the most important weapons in the fight for brand awareness. It's changed the interface in which businesses interact with their customers and evolved the relationship of customer and creator. With over 70% of small businesses using social media, it is vital risks are known so they can be avoided. 
But, before we jump into the risks, let's first look at why so many businesses are on social media.
Why use social media?
The benefits of using social media are clear to see. For a start, it allows companies to interact with their customers on a more personal level. It also offers customers more channels of communication, increasing the ease and efficiency of contacting a company. 
Marketing directly to your target market is possibly the biggest benefit since most social media users will either like or follow your page because they like your brand. Plus, it can increase awareness amongst those not already familiar with your brand. 
You're cutting out all of the things in between and directly delivering content that is of interest to the people who follow you.
And your reach doesn't necessarily stop at your followers. If your posts are shared, you're able to reach even more of the 3.6 billion social media users. This used to be impossible to achieve without spending a vast amount of money, but with the beauty of social media, you can reach that audience at the click of a button.
So, what are the risks of social media and how can they be avoided?
It must be noted that when using social media, you can be subject to criticism and unprofessional behaviour. Being able to openly express your opinions on these platforms can be dangerous. 
Since posts can be controlled by someone inside your company, they could share their own personal opinions on matters that could affect your company's audience and image. This makes monitoring your team's use of social media crucial. The following factors are how you can avoid any social media risks.
Developing a social media policy and training your staff
Employers should consider implementing a policy for their company and its staff on the acceptable use of social media in and out of the workplace. It should cover both the company's online image and that of their employees as inappropriate content should not be tolerated. 
Risks will vary depending on your business and its industry, but it's always good to consider reviewing your policies every 3-6 months to keep them fresh and fair.
Once these guidelines and policies have been produced, getting them out to your employees is key. Communication with your own staff is vital to prevent situations arising that could cause harm to either party. Training staff on their use of social media is a good idea, especially social media page administrators as they deal with the users, are the first line of support and introduction to your online brand.
Monitoring user-generated content
User-generated content can increase reach and engagement, but it also makes you more prone to risk that could go as far as legal trouble.  With that in mind, it's always good practice to monitor and remove harmful content.  Plus, a page full of spam isn't going to appeal to a potential customer. So, always ensure your page is clean, relevant and topical.
Dealing with customer complaints carefully
Whilst being vigilant about posted content is key, also monitoring the way you interact and speak with customers is a matter of immeasurable importance. Failing to do so can lead to an incredibly bad reputation and negative customer feedback. 
Many brands use their social media pages to interact directly with their audience. Dealing with FAQs and customer complaints can easily land you in hot water. Some companies have been known to delete customer posts simply because they're seen as negative, something which can raise potential advertising law concerns. 
We've even seen admins openly arguing with their audience in heated discussions which can show a lack of professionalism, putting potential new customers off. 
We're all human and we understand that anger can prevail in the most inappropriate of times but responding aggressively to a customer complaint cannot be justified. Making this clear to employees is vital in limiting any chance of this happening. 
Having a measured response to the customer is the best way to deal with any given situation. Also, make sure to inform the customer what you can do/what you've done to address and resolve their problem. It boosts your image as a brand when you can prove to audiences that you can deal with complaints efficiently and level-headed. 
If the situation cannot be resolved, offering the customer an external way of contact and support is the best option, avoiding unnecessarily dragging out the situation on your platforms for everyone to see. Take note from Tesco, as shown in the screenshot below.
Reviewing social media sites' terms of use and abiding by their rules
It's always good practice to carefully go over a social media site's terms of use before running competitions and promotions. This eliminates any chance of your page being either blocked and/or removed by the website. For example, you can't ask your audience on Facebook to share, like or tag a friend in order to enter a competition. 
You must also acknowledge that the promotion/competition is in no way associated with Facebook unless stated. With Twitter, you mustn't encourage users to create multiple accounts to increase their chances of winning. Doing so will result in account deletion.
Monitoring use of your brand, plus fake users and pages
Brand owners should be vigilant of the generic use of their brand by social media users. Facebook gives users the functionality of making pages of their own free will. This runs the risk of affecting your brand as the content isn't being monitored and it lies in the hands of a generic user. Failure to monitor your brand on social media could tarnish your company and leave you lacking authority.
Be sure to also keep an eye out for any fake pages and usernames. Coca Cola's Facebook page was originally made by two fans because they loved the brand. This may cause no harm to the brand but it can still infringe on intellectual property rights, which can be dangerous. Facebook and Twitter will often take down infringing content, but monitoring pages anyway is advised.
If a social media network refuses to take down a fake page or username, legal action and advice is available.
SO THERE YOU HAVE IT, THE RISKS THAT CAN ARISE FROM USING SOCIAL MEDIA FOR YOUR BUSINESS. HOWEVER, THEY CAN ALL BE DIMINISHED WITH CAREFUL MONITORING AND CLEAR-CUT GUIDELINES. IF YOU REQUIRE SUPPORT WITH YOUR SOCIAL MEDIA OR FURTHER HELP TO PROTECT YOUR BRAND, DO NOT HESITATE TO CONTACT US.
Latest posts by Daniel Ricardo
(see all)