In this guide, we will provide you with a comprehensive overview of SEO, its various components and most importantly how to create a Strategy.
Understanding SEO
Traditionally, Search Engine Optimisation (SEO) is the practice of optimising websites to improve their visibility and ranking on search engine results pages (SERPs). However, we believe when SEO is performed correctly it should also drive traffic from 3rd party websites and improve the website's conversion rate.
Before diving into the technicalities of SEO, it is essential to understand what it is and why it is important. SEO has been around since the early days of the internet, and it has evolved into a sophisticated and multifaceted field. There are three pillars of SEO: On-page, Off-page, and Technical SEO. Within each pillar, there is a myriad of factors to deal with.
On-page SEO refers to the optimisation of the website's content. It includes elements such as title tags, meta descriptions, header tags, and content optimisation. Off-page SEO, on the other hand, focuses on building a website's authority through backlinks, social media, and other external factors. Technical SEO is concerned with the technical aspects of a website's structure, site speed, mobile optimisation, crawlability (I think we have made this word up) and schema markup.
SEO Strategy – DNA
There are three stages:
1. Diagnose
In this first stage, we understand the lay of the land and agree on what should be achieved.
Your Goals
First and foremost you must understand the goal/s of your website. These can range from:
Typically if you are just looking for as much traffic as possible then this would be a suitable goal for websites such as newspapers and other publishers whey they earn their revenue from ads.
Brand Awareness and customer service
If Brand Awareness was your website goal then this may be suitable for brands that aren't selling directly to customers but want to drive traffic to resellers/retailers. Also, many brands will need a website to be there in case customers require customer service.
If this is the case then you must research all the various ways people might search for your brand e.g. "Brand +what you do" (Timpson key cutters) or "Brand contact number" or "Brand customer services" or Brand +branch location.
Brand searches should be easier but still, optimise your pages so that people can easily find the right pages with the relevant information they require.
Drive footfall and enquiries locally
Local SEO is essential for small businesses that rely on local customers. It involves optimising a website for location-based searches and includes elements such as Google My Business, local directory listings, and customer reviews.
If you are in a competitive local market e.g. Hairdressers, you may need to show Gooogle that you are the most trusted around. You can do this by carrying out proper link building with other local relevant businesses. If we take the Hairdresser example, why not reach out to local beauticians and collaborate on content for their website? If you do hair for weddings there is an entire industry of Wedding related businesses you could contact to collaborate with.
If you service the entire country it may be a little harder, but this depends on what you offer, If it's plumbing services then yes, if it's canted coil spring manufacturing, then no.
Either way, all the standard SEO techniques will be needed.
However, as you are national and may come across greater competition, you may need to provide your expertise more. A good way of doing this is by creating a hub of well thought through blog content. This content should be relevant, unique and up to date. Make sure you include the author's details and resources. All this will help your EEAT rating in the eyes of Google.
The more niche your product range is, the easier it will be to rank highly. First, complete your search terms research for the hierarchy of products e.g. overrising description of your store e.g. "sports clothing", all the way to the product level e.g. "men's black Nike base layer top". Then understand what ranks for these terms and based on your competitor research you may find that some terms are simply going to be too hard.
You may look to get your site mentioned in pages that do rank on the first page.
You may look to write blog articles reviewing the "Top men's base layer tops 2023", so that it ranks.
Don't forget to create your Google Merchant Centre and optimise your feed so that your products show organically within the Google Shopping section of Google's SERPS.
Competitor Research
It is important to understand the lay of the land, where are the opportunities and understand what you are up against before making creating a Strategy.
Who ranks for the terms you think your customers would search?
Who are your known competitors?
Backlink profile / Backlink Gap (SEMrush tool)
Keywords and Keyword Gap (SEMrush tool)
Content
Google Map Profile
Keyword Research
Keyword research is the process of finding and analysing the phrases and terms that people use when searching for information on search engines. It is a critical aspect of SEO because it helps businesses understand what their potential customers are looking for and what keywords they need to target. Tools like Google's Keyword Planner, Ahrefs, and SEMRush can help with keyword research.
2. Navigate
In the second stage of the Strategy process, you will need to set out guidelines on what you can and can't do. Here are a few examples of what to set out.
Target Audience
This might sound like an obvious one but a lot of SEO will purely focus on the search terms and ranking for them. You also need to ensure that once you generate the website, visitors, are greeted with the content they are looking for and impressed by.
For example, a barrister's chamber's target audience is typically well-educated solicitors. Therefore it would not go down well if you were to write 500 words explaining what a Criminal Barrister was. It would be much better to go into depth about the expertise they have within the Criminal area of law, the cases they have dealt with and their approach.
Link building 
Would you ever want to pay to get your content and backlinks published?
Resources
Who can you utilise in terms of personnel e.g. agency, developer, freelancer, in-house team member etc?
What budget do you have for external help?
What SEO tools can you use?
Reporting
What should the reports be e.g. auto-generated from SEO tools with a video summary from the SEO manager?
Make sure you include some sort of synopsis to give context to the results. If you are tracking the domain authority provided by SEMrush as there is a big drop due to their new algorithm, make sure this is mentioned.
How often should these reports be created and who is responsible for them?
We would recommend reporting monthly but ensure that you compare year-on-year time periods to avoid seasonal fluctuations.
Measuring SEO Success
Measuring the success of SEO efforts is crucial to understanding if your strategies are working and identifying areas for improvement. This involves setting goals and KPIs, tracking website traffic and rankings, and analysing the impact of SEO on overall business success.
3. Act
Lastly, of course, here are the actions to achieve the goals within the guidelines you've set out.
The 3 parts of SEO
On-Page SEO – Content
On-page SEO is concerned with optimising the content and structure of individual web pages to improve their ranking on search engine results. This includes optimising title tags and meta descriptions, using header tags effectively, optimising content for keywords, and internal linking.
Off-Page SEO – Trust
Off-page SEO is focused Off-page SEO is focused on improving a website's authority and visibility through external factors such as backlinks, social media, and online directories. It involves building relationships with other websites and creating high-quality content that others will want to link to.
Technical SEO – User Experience
Technical SEO is concerned with the technical aspects of a website's structure that impact its search engine ranking. This includes optimising website speed and performance, ensuring mobile responsiveness, and implementing schema markup to provide additional information to search engines.
SEO Tools
Free
Website owners can monitor and maintain their site's presence in Google search results. It offers tools for submitting sitemaps, checking for indexing errors, and monitoring search performance.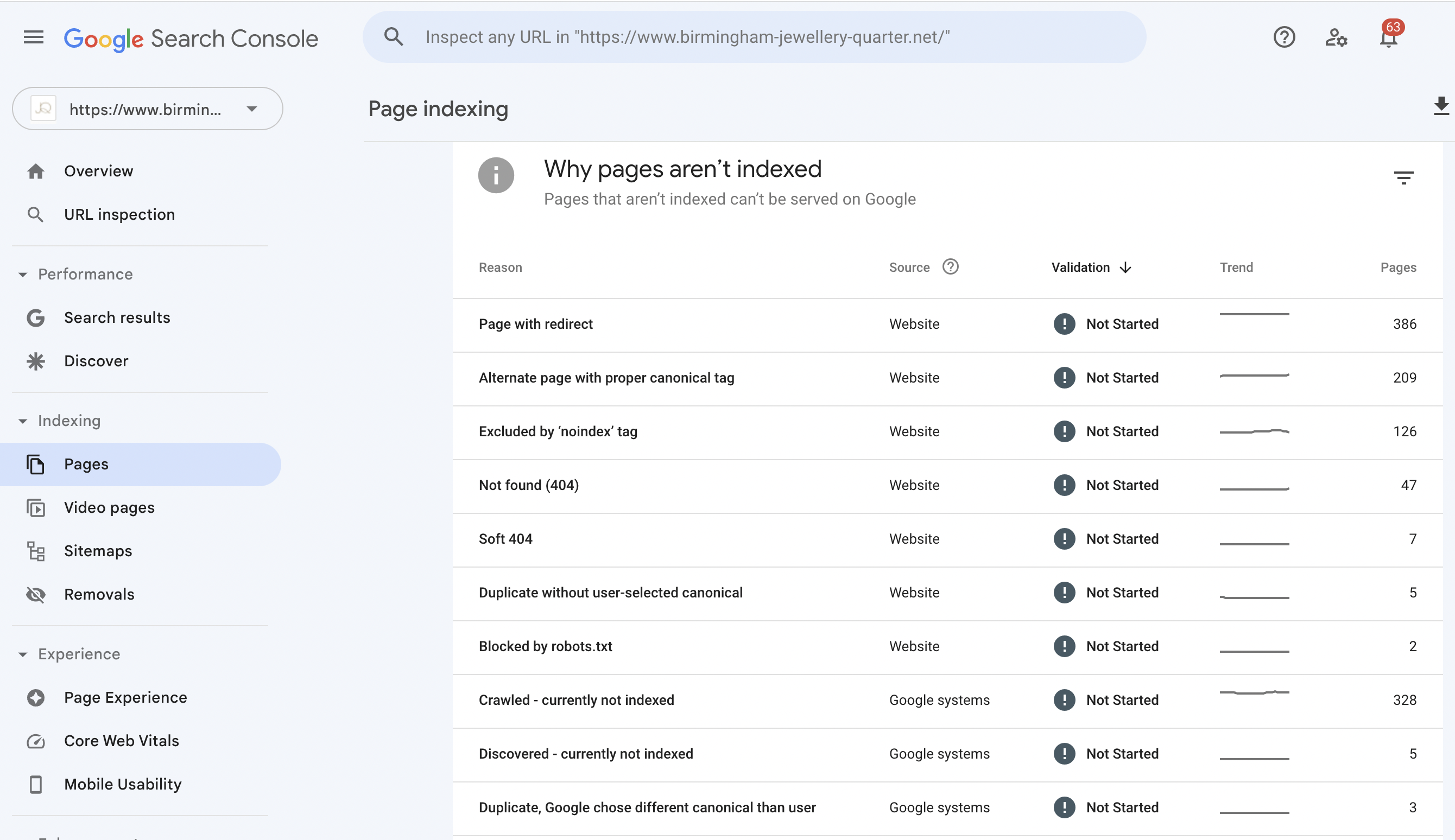 You can track and report website traffic. It provides valuable insights into user behaviour and can help identify areas of improvement for your website.
Keyword planner: Google Ads can help you identify relevant keywords that are driving traffic to your website. You can use this information to optimise your website's content for those keywords and improve its visibility in organic search results.
Search terms report: Google Ads provides a search terms report that shows the actual search terms people are using to trigger your ads. This can help you identify new keywords to target in your SEO strategy and find negative keywords to exclude.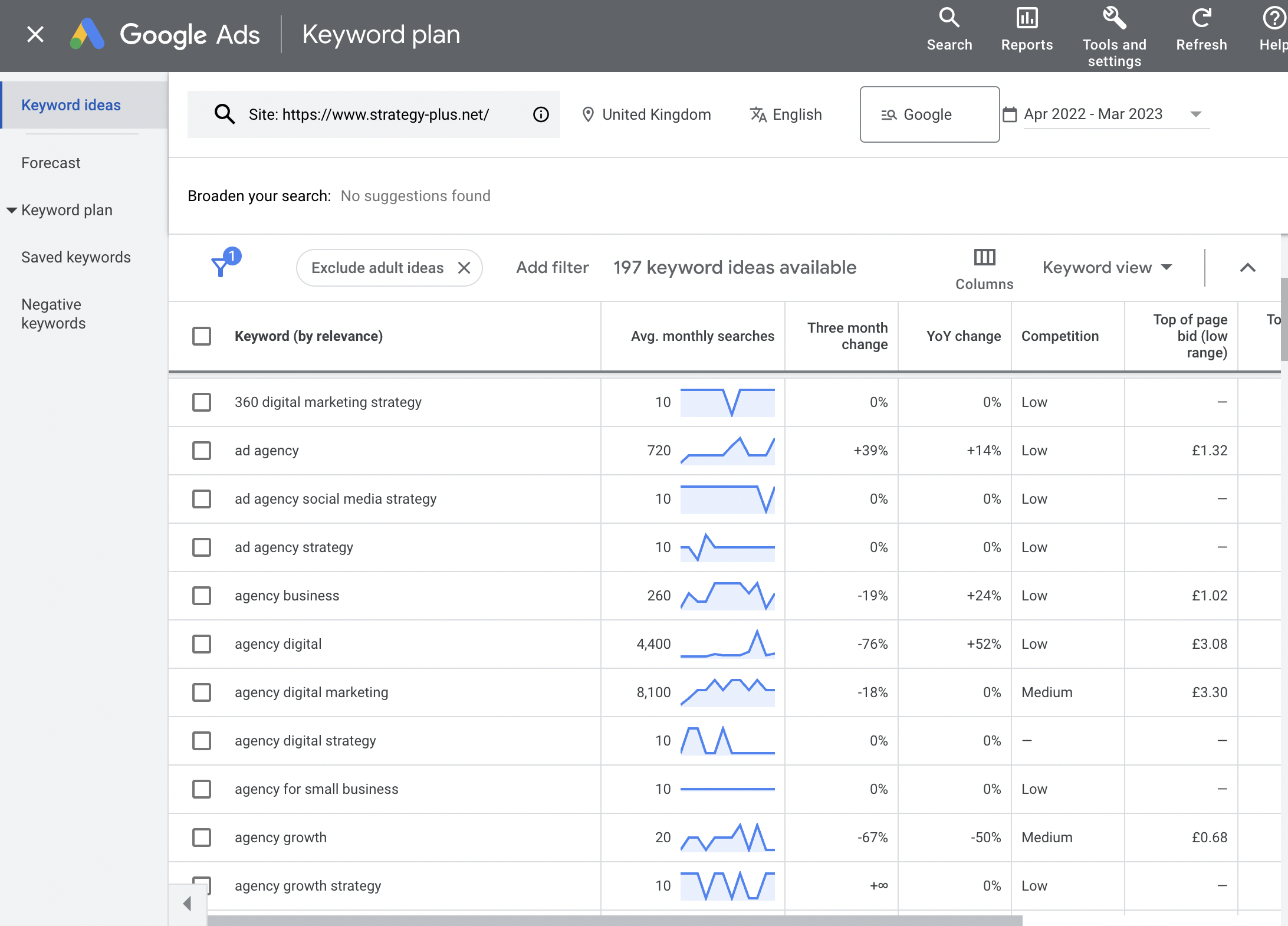 The tool uses a score from 0 to 100 to rate the performance of the page on both desktop and mobile devices, based on factors such as page load time, time to interact, and the size of the page's content. It also provides detailed insights and recommendations for improving the page's performance, such as optimising images in WebP format, reducing server response time, and eliminating render-blocking resources.
In addition to these technical recommendations, PageSpeed Insights also offers user experience suggestions, such as prioritising visible content and using legible font sizes.
This is a free keyword research tool that provides valuable insights such as search volume, keyword difficulty, and related keywords.
Paid 
SEMrush, Moz, AhRef, Serpstat:
Keyword research: they can provide you with insights into the search volume, keyword difficulty, and CPC (cost per click) of any given keyword. You can use this information to optimize your website's content for high-traffic, low-competition keywords.
Competitor analysis: you can analyze your competitor's websites and see which keywords they're targeting, what their backlink profiles look like, and what their top-performing content is. This can help you identify gaps in your own SEO strategy and find new opportunities to improve your website's visibility.
Backlink analysis: they can show you all of the backlinks pointing to your website, as well as those of your competitors. This can help you identify high-quality backlink opportunities and find potential issues with your website's backlink profile.
Site audit: they can perform a comprehensive audit of your website, identifying technical issues that could be impacting your SEO performance. This includes things like broken links, missing meta tags, and slow page load times.
Content optimisation: Some can analyze your website's content and provide insights into how to optimise it for search engines. This includes identifying opportunities to use target keywords more effectively, improving readability and structure, and identifying content gaps.
This is a popular plugin for WordPress websites that offers Free and Paid versions. It provides on-page optimisation tools such as meta-tag optimisation, keyword density analysis, and content analysis.
Website crawling: Screaming Frog can crawl your website and identify issues such as broken links, duplicate content, and missing meta tags. This can help you identify technical issues that may be impacting your website's SEO performance.
Visualisation: The tool provides visual representations of website data such as site architecture, internal linking, and crawl depth. This can help you understand how your website is structured and identify areas for improvement.
Conclusion
SEO is a complex and ever-evolving field, but it is essential for businesses that want to succeed in today's digital landscape. By implementing effective SEO strategies, businesses can improve their online visibility, attract more customers, and ultimately grow their bottom line.
If you need help with SEO for your business, don't hesitate to reach out to professionals who can provide expert guidance and support.
FAQs
Can I do SEO by myself, or should I hire an agency?
While it is possible to do SEO on your own, it can be a challenging and time-consuming process. There are various skill sets required for SEO, from copywriting to web development. Hiring an agency can provide you with all the expertise, resources and experience needed to implement effective SEO strategies.
How long does it take to see results from SEO efforts?
SEO is a medium to long-term strategy, and it can take several months to see significant results. However, by implementing effective strategies and monitoring your progress, you can steadily improve your website's ranking and visibility.
Are there any risks associated with SEO?
There are some risks associated with SEO, such as the possibility of being penalised by search engines for using questionable or "black hat" techniques. However, you can minimise these risks by following best practices and staying up-to-date with the latest trends and algorithm updates.
What is the difference between on-page and off-page SEO?
On-page SEO focuses on optimising the content and structure of individual web pages, while off-page SEO is concerned with external factors that impact a website's authority and visibility.
How do I choose the right keywords for my business?
Choosing the right keywords involves researching your target audience and analysing their search behaviour. Keyword research tools such as Google Ad's Keyword Planner can help you identify high-volume and relevant keywords for your business.
How can we help?
Here at Strategy Plus, we are the original SEO agency, having provided SEO packages for every website built back in the late 90s.
We would be happy to carry out a free video-recorded review before engaging any retained services.
You can find out more about our SEO packages here.
Latest posts by Daniel Ricardo
(see all)