Hmm, what's a Thank You Page?
At some point, you would have come across a thank you message online. These range from "Thanks for your enquiry, we'll get back to your shortly" or "Thank you for your order, you will receive confirmation shortly". This may seem very polite and worthwhile, however, you have pretty much said, "Thanks, we'll be in touch". Rather than made the most of this most sought after website visitor, or as we call them, a lead!
This is someone who has expressed an interest in whatever it is that you are offering, a piece of content, a quote, a product etc. Therefore don't just leave them hanging! Offer further relevant pieces of content, information and possibly gain more of an insight about them and what they're looking for. If you feel you have nothing else to offer and this is one happy customer, then why don't you suggest sharing it with the world via Facebook, Twitter, email and the other wonders of the world wide web.
Here's the difference between a thank you message and a thank you page from the Inbound specialists Hubspot….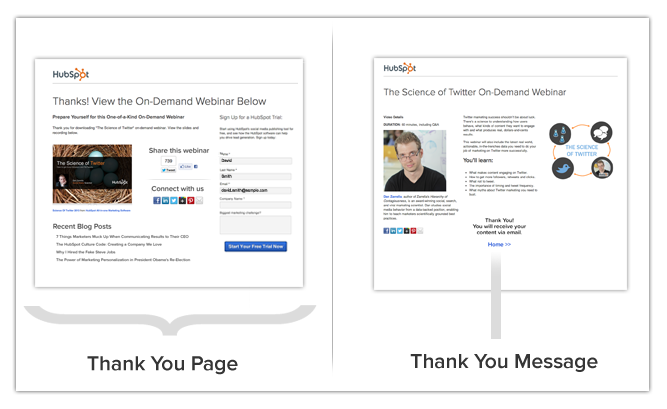 ….and here is the ideal Thank You page anatomy
Here's an example of what I mean, based upon creating content for a firm of accountants and business advisers;
You have written a piece of content about how to grow your business and save time. In order to get this piece of information, a form needs to be completed. Once this is done they land on a page with a number of related articles and pieces of content. One of them being Save time by automating your accounts. You now know they are concerned about growing their business, saving time and more specifically automating their accounts.
If the Thank You Page hadn't been created, the information you have had on that person would be vague. However, if the first piece of content was all they needed, then they would be happy and have the ability to share that with their friends.
Please remember you have worked very hard to convert this person, please let it go to waste. Keep your audience engaged and find out more about them to ensure you deliver exactly what they want. Don't leave it to your competitors.
Latest posts by Daniel Ricardo
(see all)