How time flies! Sometimes it's only birthdays when you look back and reminisce. As it's 20 years since we started building websites, I thought it would be good to do just that with the help of WayBack Machine.
My Dad created Strategy Plus helping big businesses venture in to new markets back in the 90's. Businesses like Knight Frank needed websites in foreign languages for new offices in places such as Prague. My Dad went on the hunt to find somebody called a web developer. This is how Cristian joined the business and started to build websites in 1997!
2001
This was arguably the biggest year for Strategy Plus as I gradated from University and joined the family business!
Take a look at the first SP homepage I could find dated back to 2001. Unlike today's websites, this homepage had a couple of flash files with moving images. This was all pretty advanced back then and I still like the simplicity of it.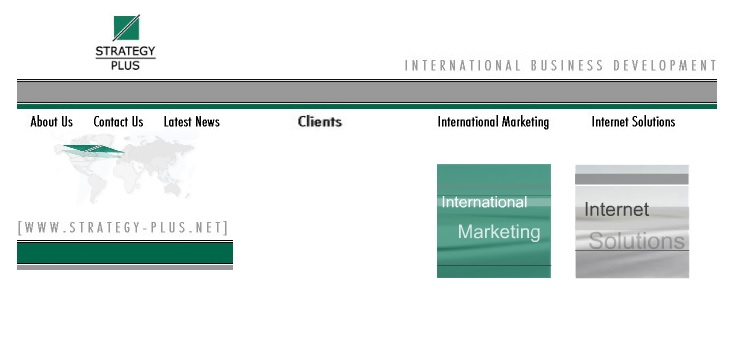 2005
Just four years on it was clear that the World Wide Web would be a huge marketplace and less saturated than your standard Marketing consultancy.  You will see from the screenshot below that we dropped the traditional marketing services in favour of Web Design & SEO.
We were leading the way in the world of SEO by offering this as standard with every site. Every website was created and then replicated on to various domain names. Each domain would have different keywords and meta data. This practise clearly wouldn't work today, but back then, it did.

2012
This is the year my Dad retired; he worked extremely hard and deserved to put his feet up.
First thing on my to do list was a new website, but you will notice the trusty old logo from the 90's remained the same.
You can see the design trend had moved to full width imagery as screen sizes increased. No longer did we offer 3 websites and free design, but still very competitive as you can see by our price orientated USP.
2015
After a few years building the business up, pushing the team to start developing responsive (mobile friendly) websites, I thought it best to recreate our own. In the same period of time I had realised the perceived value of web developers had decreased somewhat due to the influx of build-your-own websites and CMS platforms such as WordPress.
I had also become a big fan of Hubspot and a big believer in Inbound Marketing. It was precisely my cup of tea. Unlike my Dad, I couldn't sell sand to the Saudis, I didn't like cold calling and persuading people they needed our services. The answer to my pain was Inbound Marketing. Strategy Plus now offered a holistic approach to online marketing and practised what we preached.
You will notice our differentiating factors rotating in the banner. Even though we were still very competitive on price, we didn't want to advertise this as we would attract people more concerned with price than quality.
One other big change was the addition of useful articles to attract those who are not yet ready to buy but want to learn more. Two of the three most popular pages on our site are both blog articles.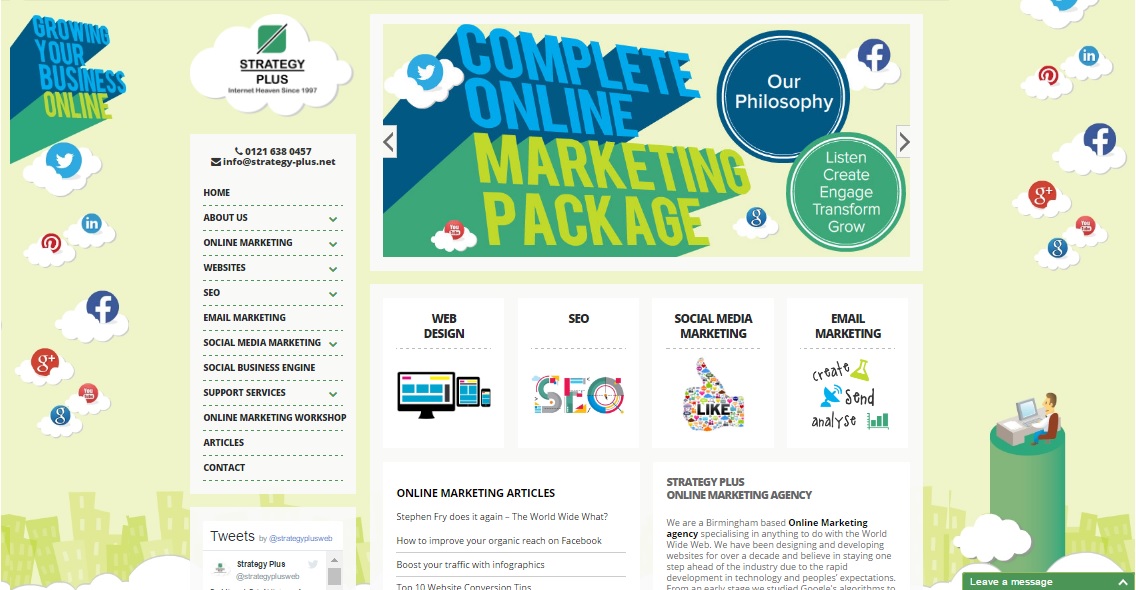 2017
It's now 2017 and 20 years since we started to build websites and we'd thought we'd celebrate by having a re-brand, let us know what you think…..
You can see the design now has a full screen with cinematic imagery and even a video integrated in to the sliding banner.
The design now tailors towards the mobile use and the way people like to slide their way down a page and not everything has to be there above the fold. Everything is stripped back on every page above the fold, Navigation, relevant imagery, key message and call to action.
We can already see the time spent on the site has already improved significantly, which is the main goal of this process.
But just like every other website, we will continue to improve and no doubt in a few years' time, redesign it all over again.
And here it is, the 2022 version!
Latest posts by Daniel Ricardo
(see all)