30 Oct

LinkedIn Intro: a revelation in mobile email?

The fast paced growth of mobile email has seemingly took many by surprise. Four years ago, less than 4% of all emails were read on mobile, yet today, the percentage has risen dramatically as half of all emails are read on mobile devices.

Last year, LinkedIn acquired email company Rapportive and ever since have set themselves the challenge of bringing the power of LinkedIn, and the technology of Rapportive, straight to the Apple Mail app on iPhone, incorporating an experience like never before. After they've collaborated together closely for many months to build a mobile product like no other, it's finally here: LinkedIn Intro

Intro gives users the ability to view LinkedIn profiles all in the space of your iPhone Mail app. The difference this makes is massive, as seen in LinkedIn's example below.

"You've just got an email from David Buchanan, but you don't yet know who he is: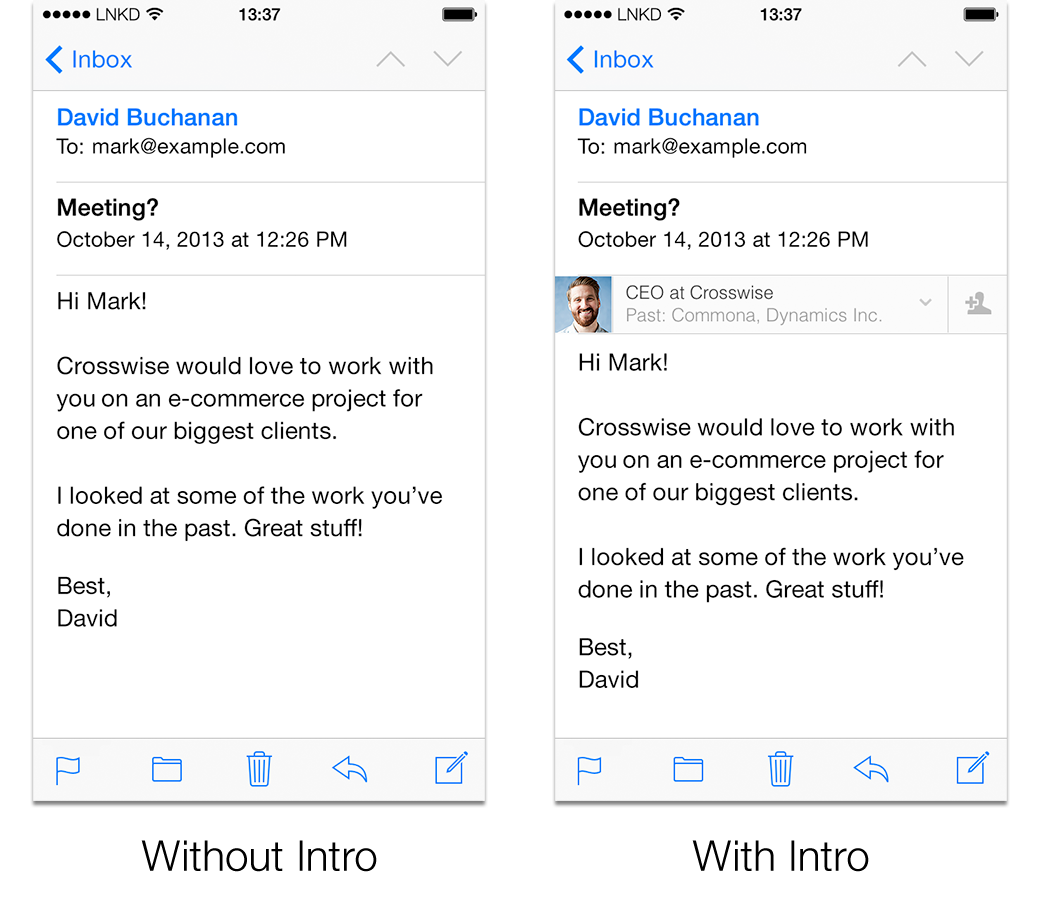 David says Crosswise would love to work with you. Is this spam, or the real deal?"
What Intro does is automatically give your emails a level of authenticity. Automatically, people can see where you're based, what you do and what you look like. It also gives current job title, so you can see the connection in the email.
Getting this far was simply the first step, yet the coolest feature is yet to come:
When you tap the bar that already gives your LinkedIn information, a more detailed background of you will appear, as seen below:
"This is a rich, interactive, application-like experience" says Rahul Vohra, co-founder of Rapportive. This is all simply through your Mail app. A clear summary of David is clear to see, detailing your strongest mutual connections and providing information like his occupations (past and current) with their full descriptions. You can even see where David went to school, if you wish to do so.
With Intro, you can craft the perfect response. It gives you "everything you need to put faces to names, write the most effective emails — and ultimately — be brilliant with people, and better at at what you do."
Intro is already available in English for members worldwide. Currently supported providers are Gmail, Google Apps, Yahoo! Mail, AOL Mail, and iCloud — all in the iPhone Mail app.
To get Intro for iPhone, head to intro.linkedin.com.